For over 16 miles, the Ives Trail passes through beautiful and often secluded open spaces across four towns in Fairfield County, Connecticut. ( Hike the Ives Trail
Google Map
)
Southwest Section
The Southwest Section of the Ives Trail starts at Bennett's Farm State Park in Ridgefield and meanders through Pine Mountain Reserve in Ridgefield and Wooster Mountain State Park in Danbury.
Trail Maps
Parking
Northern Section
The Northern Section of the Ives Trail begins at Route 7 in Danbury and passes through Tarrywile Park before heading south through exclusive right-of-ways amid private land in Danbury.
Trail Maps
Parking
Southeast Section
The southeast Section of the Ives Trail begins at Wiedel Meadows in Danbury, continues into Terre Haute open space in Bethel and traverses Bogus Brook Preserve in Redding.
Trail Maps
Parking
Large Maps
Hiking Distances
Bennett's Pond to Tarrywile Park = 12 miles
Pine Mountain Rd to Tarrywile Park = 9 miles
Bennett's Pond State Park to Route 7 = 6 miles
Route 7 to Tarrywile Park = 5 miles
Tarrywile Park to Side Cut Road = 7 miles
Tarrywile Park to Long Ridge Road = 5 miles
Long Ridge Road to Side Cut Road = 4 miles
Loop Hike: Start/End at United Methodist Church** = 6 miles

** Not on Sundays - from church lot, walk north on Long Ridge Rd to Ives Trail on your right. Follow trail to Side Cut Rd, turn right and walk west, over train tracks and back to church.
Ives Trail Completion Patch
Hikers who have completed the Ives Trail from start to finish can apply for a commemorative patch. The journey can span a period of days, months, or even years. Simply provide the date(s) you hiked the trail, whether in sections or all at once. To get your patch, send $2, along with your qualifying information, to:
ITGRA c/o Tarrywile Park Authority
70 Southern Blvd
Danbury, CT 06810

Trail Markers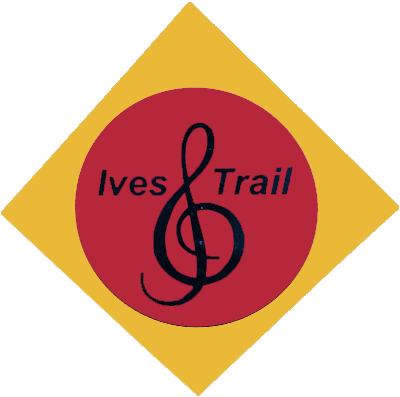 The Ives Trail is blazed with a G-clef musical symbol inside a red circle on a yellow diamond.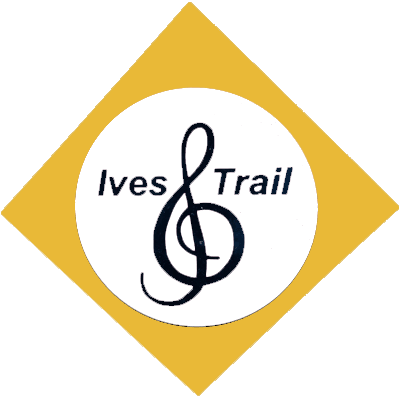 Alternate / connecting routes are blazed with the same symbol inside a white circle.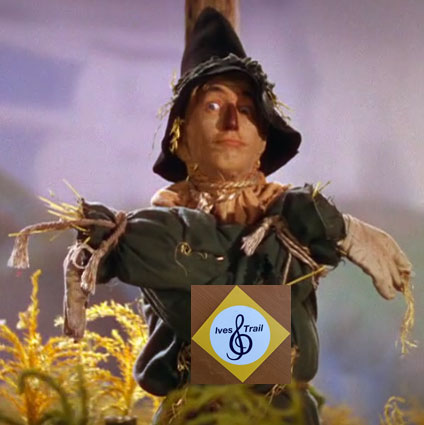 Since the establishment of the Ives Trail Greenway in 2010, the trail has been re-routed to accommodate such factors as town or landowner concerns, newly opened green spaces, shared access or environmental issues, all of which have had an impact on its overall distance and terrain. For those reasons, be aware that the Ives Trail Greenway is an adaptable resource that may possibly take a somewhat different course in the future!
Off the Beaten Track...
Here are some historical items you may pass along the trail...
Copyright © 2022 Ives Trail & Greenway Regional Association